How Many Types of Grinding Media Balls Manufacturing Process?
2019-08-17 16:33:59
What is grinding media balls?
Grinding media balls, which may be made of steel (chrome steel), or stainless steel, are often used as grinding media of ball mill. Grinding media steel ball is a kind of consumable. Its main purpose is to grind materials, so as to grind them finer and meet the use standard. It is mainly used in mines, power plants, cement plants, iron and steel plants, silica sand plants, coal chemical industry and other fields.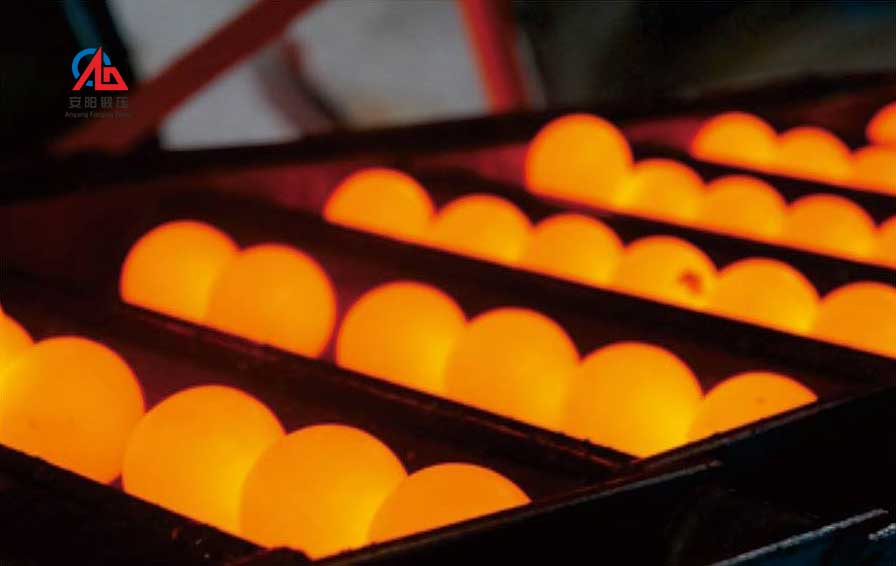 How many types of grinding media steel balls?
There are three kinds of grinding media steel balls, forged steel balls, cast steel balls and hot rolled steel balls.
Cast grinding media steel balls
In cast steel balls, chromium alloy is the main component of cast steel balls. Its anti-oxidation and anti-high sulfur, diesel fuel and seawater corrosion properties are poor. Its strength density is lower than that of forged steel balls, and its breakage rate is much higher than that of other process steel balls.
Forged grinding media steel balls
With the continuous development of raw material and upgrading of production equipment, the application range of forged steel balls are becoming wider and wider, especially in the SAG mill of mines, and ball mill whose diameter is more than 2.5m. Forged steel balls have lower wear and breakage, and have more obvious advantages than cast steel balls.
Three solutions of Grinding Media Balls Manufacturing Process
Anyang Forging Press is the best forging machine manufacturer in China. With more than 60 years experiences in forging machine manufacturing, we have designed three solution plans of steel ball making machine for our customer.
Grinding Media Balls Manufacturing Process with Power Forging Hammer
Using power forging hammer to manufacture grinding media balls is a traditional process. The power hammer is used to forge the raw materials to a certain amount of deformation and increase the compression ratio, so as to make the structure of the grinding media ball more compact and improve the toughness and hardness. Traditional manufacturing needs to cut material according to size, then heat it to a certain temperature in the heating equipment, forged by power forging hammer, heat treatment. There are too many drawbacks in the traditional process of steel balls inspection. The main ones are low production efficiency, large individual differences in product quality caused by artificial control, serious environmental pollution, high labor intensity of workers, thermal radiation and noise radiation, which seriously endanger workers' health.
Raw materials: Round steel, the raw material for forging steel balls, is ordered from large national steel mills, and can be processed according to the special requirements of different wear-resistant steel balls.
Raw material heating: We use energy-saving induction bar heating furnace for heating, which can ensure the uniform temperature of the whole raw material and greatly reduce the loss of raw material. The uniform temperature of raw material after heating can ensure the uniform hardness of wear-resistant steel ball in the heat treatment process.
Heat treatment system: Through quenching and heat treatment production line and scientific heat treatment process, the water inlet and outlet temperatures of grinding media steel balls can be controlled at will, so that the hardness of forged wear-resistant balls from surface to core is higher, and at the same time, they have high toughness and low breakage rate, so as to maintain the stability of grinding media balls in various harsh working environments.
Skew Rolling Mill Machine - High Efficiency Steel Ball Making Machine
With the development of forging industry, traditional technology has gradually faded out of the historical stage and replaced by skew rolling technology.The basic idea of skew rolling technology is to heat the whole round steel in an electric furnace, feed it into the roll through a conveyor, drive the roll to rotate through a motor and a reducer, and the roll can skew roll the high-temperature round steel into a ball by its own spherical groove design.
Working principle of steel ball skew rolling mill machine
Advantages and disadvantages of Skew Rolling Mill to Manufacture Grinding Media Balls
Skew rolling process does not need blanking and power forging hammer, which greatly improves the production efficiency, greatly reduces the labor intensity of workers, and greatly reduces the hazards of noise and other hazards.Skew rolling technology is a leap forward development in forging steel ball industry. However, there are many defects in skew rolling technology, the most important of which are surface quality and roundness. The surface of grinding media steel balls produced by skew rolling mill has defects of protrusion, depression, over-burning and high roundness loss. Moreover, when the diameter of steel balls is larger than 50 mm, the indexes of steel balls produced by skew rolling technology can not meet the requirements of relevant standards. For grinding media steel balls larger than 90 mm in diameter, skew rolling technology can no longer be produced.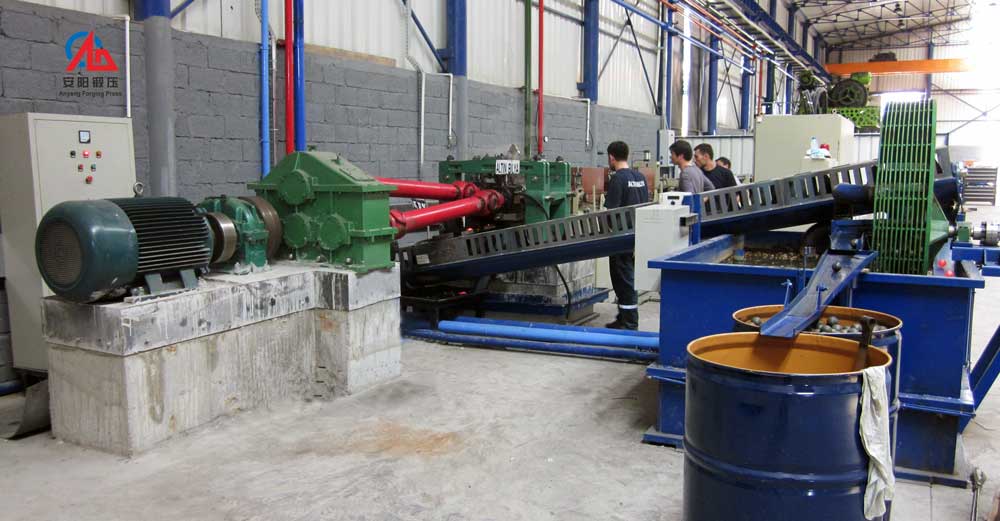 Skew rolling mill machine in Turkey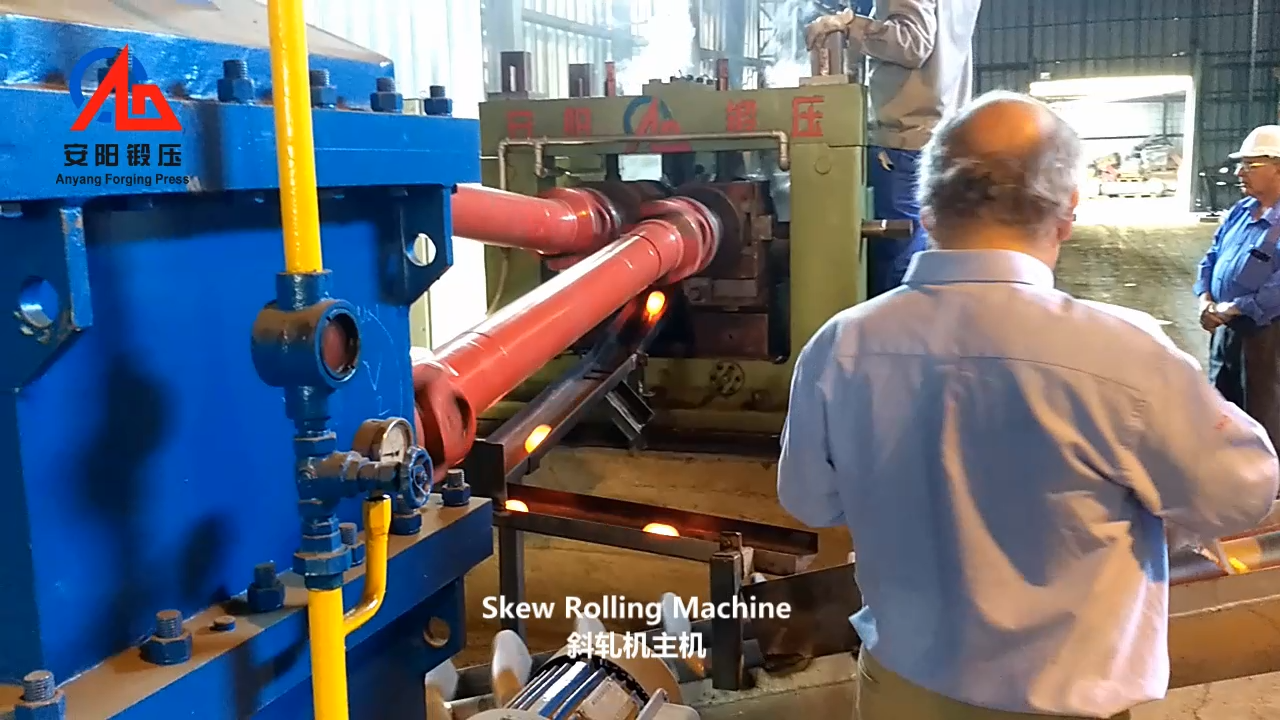 Skew rolling mill steel ball making machine in Chill
Automatic Roll-Forging Production Line - New Grinding Media Steel Balls Manufacturing Process
Considering equipment cost, production cost and labor cost, Anyang Forging Press developed a new forming method of "forging-rolling combination"to produce larger diameter grinding media steel balls, the mew grinding media balls manufacturing process method takes into account the advantages of good quality of forged steel balls and high production efficiency of rolling steel balls.
Manufacturing Process of Roll-Forging Steel Ball Production Line
After the bar is heated by medium frequency furnace, cut by billet shearing machine in short to the required length, the qualified material is sent to the CNC forging hammer bu the robot, the performed "upset ball" into good shape of steel ball, then after the heat treatment, get high hardness of wear-resistant ball.
forging bar heating - bar hot shearing and automatic sliding into rod positioning barrel - robot no. 1 holds the bar in the positioning barrel onto the die of the automatic power forging hammer - power forging hammer forges automatically for 2 to 3 times - forging material out of die and roll into lifting device - hoist and roll into rolling machine - roll into round shape of steel balls - quenching treatment - tempering treatment - quality inspect
| | |
| --- | --- |
| | |
| Hot Bar Shearing Machine | Medium Frequency Induction Furnace |
| | |
| --- | --- |
| | |
| Forge Steel Ball on Power Hammer | Steel Ball Rolling on Skew Rolling Mill Machine |
Welcome to Choose Anyang Steel Ball Making Machine
Anyang provides automatic roll-forge production line for grinding media balls with diameters from 100mm to 200mm. Our steel ball making machines have been exported to Vietnam, Turkey, Armenia, Indonesia, Chill, Zambia and some other countries where with rich mineral resources. Recently, our company has just completed the installation and commissioning of three steel ball skew rolling mill production lines in Iran, and now all of them have been put into production.